Tag Archive | "young"
Posted on 15 December 2011 by curvey in Featured, Hip-Hop/R&B
M.I.C News Magazine Bio From mindlessbehavior.com Click Here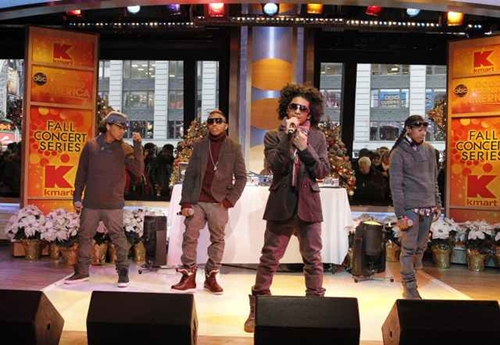 The group Mindless Behavior is blowing up all over the world right now and I think it is great too see these young fellas doing well.
They are very talented group that can sing and dance very well. Their single is topping the r&b charts and video is #1 on B.E.T's "106th & Park".
I hope the group stays together and not be a "one hit wonder". Will they stay together for years like New Edition or The Backstreet Boys or New Kids On The Block or get older and go there separate ways? Time will tell if this will happen.
The fact of the matter is their are not many r&b/pop male groups young or old any more. The question is why readers? Matter of fact, their are not any female groups too. Where are groups like Destiny's Child?
Young performers like Mindless Behavior and Willow Smith and Diggy Simmons are making a name for themselves at a very young age. Hopefully they can inspire other young performers to perform just like they are doing right now.
Once again I am glad to see Mindless Behavior doing well. Will they be around for a long time on the music scene? Time will tell.  Gordon Curvey
Listen to the latest edition of "MUSIC INNER CITY RADIO" podcast from our program on 1150am KKNW in Seattle, Washington. Classic soul/classic hip-hop and r&b/urban sports news and exclusive interviews 24-7 on-demand.  New podcast in the next days. Click below.
Podcast: Play in new window | Download
Tags: dance,destiny's child,diggy,groups,mindless behavior,simmons,sing,smith,talented,willow,young
Posted on 02 September 2011 by curvey in Featured, Hip-Hop/R&B
ARTICLE FROM s2smagazine.com (Full story click here)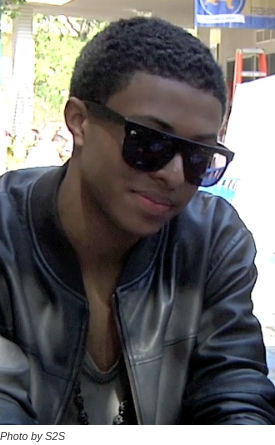 We have seen young Diggy Simmons grow up from a little kid to a young man because of watching him on TV for years on "Run's House"
Of course his father is the legendary Rev. Run of the group Run D.M.C. Rev. Run has done a great job in bringing up his kids. A great job. Some think Rev. Run's kids are spoiled brats. I do not think that at all.
It seems to me Rev. Run made his kids get a good education in school and has brought up his kids to want to work hard when they get older. Diggy Simmons has grown up and has worked hard to make a name for himself in hip-hop.
Yes for sure doors was opened up for Diggy because of who his daddy is but truth be told young Diggy Simmons has skills. Real talk. He really does.
Here is a question. If you watched "Run's House" you will know that Diggy Simmons big brother JoJo is also a rapper but we have not heard from JoJo regarding his music. Maybe we will one day. In the meantime, shout out to Diggy Simmons and we will be playing his videos soon on Seattle's own "Music Inner City TV"  Gordon Curvey
Watch "Music Inner City Ustream TV" right here!! Every Friday night at 9pm to 10pm Pacific Time and midnight Eastern time. Playing urban music videos, exclusive interviews and more LIVE from Seattle, Washington.
Tags: brother,daddy,diggy simmons,grown,inner city,jojo,kids,legendary,music,rev run,skills,tlk,tv,ustream,young
Posted on 06 June 2011 by curvey in Featured, Much More
ARTICLE FROM hiphollywood.com (Full story click here)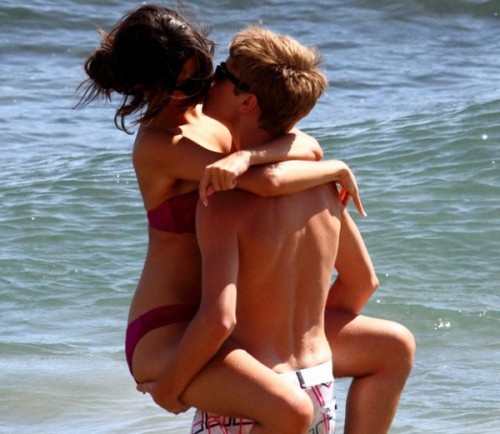 Check out the pic of pop star Justin Bieber and Selena Gomez in the water getting real busy on the kissing tip. Some may say this is real cute.
But remember readers. Justin Bieber is only 17 years old and Gomez is 18. Some may say this pic is showing these young people are moving to quick in their relationship.
In my opinion I think Bieber and Gomez are going to quick in the young puppy love relationship. They don't know what love is!! They don't readers. Pure and simple. Again it is PUPPY LOVE that Bow Wow rapped about when he was young.
I think he needs to worry about his huge career right now and put the love stuff to the side for now. He has plenty of time for that in my opinion and Gomez has time too.    Gordon Curvey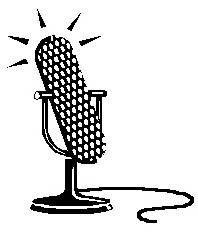 "SPORTS INNER CITY RADIO PODCAST" 6-6-2011. Urban sports news and issues. Classic soul and new and recent music, exclusive interviews, public service announcements and more. It is 24-7 on-demand. CLICK HERE TO LISTEN TO THE PROGRAM.
Tags: cute,justin bieber,kssing,pop,relationship,roll,selena gomez,slow,star,young
Posted on 28 October 2010 by curvey in Featured, Hip-Hop/R&B
ARTICLE FROM digitalspy.com (Full story click here)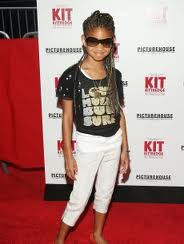 The young daughter of Will Smith and Jada Pinkett Smith, Willow Smith wants fame just like her parents and if that is the case, she will be a mega star.
Young Willow has a new song out "Whip My Hair" that is blowing up. She is starting out in the music business very very young which is good.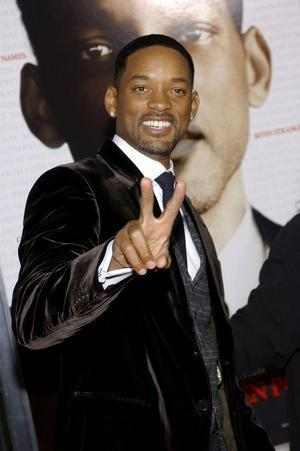 Artists like Usher and Bow Wow started out very young. And they are still going strong. Of course Will can train his young daughter in the game. All the ups and downs of the music business.
One of Smith's young sons is a actor and a good one at that. He will have a long career in the acting business just like his daughter will have a long career in the music business.
You will be able to watch Willow Smith's new music video "Whip My Hair" very soon on "Music Inner City TV" which airs all over Wetern Washington state on Comcast On-Demand 24/7 (just go to "get local" and then "around the sound" and hear the song on "Music Inner City Radio" on 1150am KKNW every Friday night at 10pm (unless there is a game and it will start right after the game). The radio shows streams online live at www.1150kknw.com
Podcasts and webcasts are right here on "Music Inner City News Magazine"
Podcast: Play in new window | Download
Tags: bow wow,Business,daughter,fame,music,parents,radio,Usher,wahington,whip my hair,will smith,willow smith,young
Read More Comments Off on Young Daughter Of Will Smith Wants Fame Like Parents
Posted on 24 September 2010 by curvey in Featured, Much More
ARTICLE FROM yahoo.com (Full story click here)
Why am I writing about actress Lindsey Lohan? Because it is a story of a young Hollywood female who has had problems because of the way she was brought up. And also about a person who thinks she is above the law. And because of a story about the dangers of drugs.
Lohan needs help and needs help now! And if it takes jail to make her fly right then so be it readers. This is Lohan's third time going to jail. She needs to stay their until she learns about the law and learns about the problems of using drugs.
Her sorry dad, Micheal Lohan I feel is the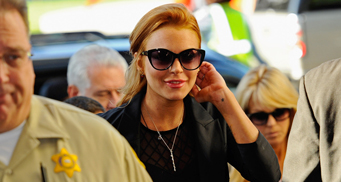 blame for Lindsey's problems and her mom too. He has had drug and alcohol problems and has been in jail himself. So sorry to say, like dad like daughter I guess.
Recently I saw on the net that Lindsey's 16 year old sister Ali has taken pics in a skimpy dress for Lindsey's clothing line. Is she the next Lohan to have problems?
Lindsey's story is a story of a young and talented Hollywood star gone bad. It will take jail time to make Lindsey do the right thing. If not, this story will end up terrible. This is for sure.
To many times folks say people with money get breaks. I hope Lohan does not get any more breaks. She needs to stay in jail for awhile and learn a few things. Now she is going to jail for 30 days. Here is a question. Will she get out early this time? We will see.        Gordon Curvey
Tags: actress,ali lohan,female,hollywood,jail,lindsey lohan,michael lohan,problems,star,talented,young
Posted on 09 March 2010 by curvey in Featured
ARTICLE FROM huffingtonpost.com (Full story click here)
"One Man's Opinion" by Gordon Curvey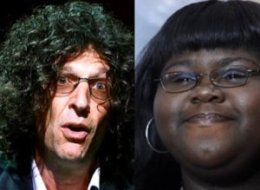 I CANNOT believe what so called "shock jock" Howard Stern said about Oscar nominee actress Gabourey Sidibe over the air about her size!
Please listen to his STUPID and yes RACIST comments about Ms. Sidibe by clicking the link above. I am real bothered by his comments. And I am bothered by his sidekick Robin saying what she said too! The question is WHY DID HOWARD MAKE THESE COMMENTS AND WHY IS THIS NOT BIGGER THAN WHAT IT IS?
First of all Gab will find work again!!! She is looking over new roles right now Howard!!! And not only that I am sure OPRAH AND SPIKE AND DENZEL AND TYLER PERRY and others will make sure she will have a job acting in a movie!!! What a STUPID thing to say that Gabourey will not find another acting job!!!
It hurts me as African American that Howard would say that about her and hurts me even more that Gab's African American sista would also make negative comments about Sidibe!!!!
Gabourey seems like such a down to earth young lady with a great personality. Yes she is a large lady. This is true. And hopefully she will shed some pounds for her health. But when she is ready she will. She does not need CLOWNS like Howard and Robin blasting her on national radio!!
And here is a question. What kind of talent does Howard have or Robin have? I think the pitbulls that Shorty trains on "Pit Boss" on TV have more talent than Howard and Robin!!!!!!!!!!! All Robin does is laugh and makes a stupid comment after Howard's stupid comments!!!! It is beyond me why he makes millions. He is a no talent!!
These comments made by Howard and Robin should make Sidibe work harder and show the fool and crazy Howard that she is going to work and she will continue to be a wonderful actress and a great lady.
What Robin should have said on the radio as a African American female is how proud she was of Gabourey to be nominated for a Oscar and how proud she was of Monique to win a Oscar!!!! Instead of the very negative things said. Those comments make me angry and also very very sad.
What Howard said about Gabourey Sidibe is FLAT OUT WRONG AND TERRIBLE! I hope you readers are as bothered as I am by his comments.
Tags: acting,actress,african American,bigger,blasting,denzel washington,fat,gabourey Sidibe,gordon curvey,hollywood,howard,howard stern,huffington post,hurts,jock,lady,millions,monique,movies,music inner city,national,negative,online,oprah,oscar,personality,pitbulls,Podcast,precious,radio,robin,seattle,shed,shock,shorty,sista,size,spike lee,stern,stupid,talent,tyler perry,unfair,washington,webcast,weight,young