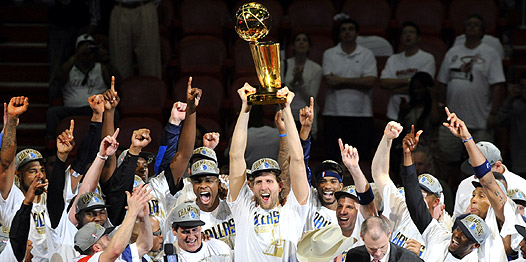 ARTICLE FROM miamiherald.com (Full story click here)
Big Dirk and the Dallas Mavericks finally got there NBA title after getting beat in 2006 by the Miami Heat. This time they beat the Heat to win the first NBA title for the city of Dallas winning 105-95.
Shout out to Seattle native Jason "The Jet" Terry for winning his first title as well as 38 year old Jason Kidd. I am really happy for Kidd. He has worked years and years to finally earn a ring. I am really for him.
Again, it was a disappearing act for LeBron James in the fourth quarter. The question is why did this happen to James in the fourth quarters of games in the Finals. What in the hell happened?
These questions will be asked all off season when it comes to the Miami Heat. I am sure the fans of the Cleveland Cavs are saying "I told you so" when it comes to LeBron.
Congrates to MVP Big Dirk, owner Mark Cuban, and the rest of the Dallas Mavericks. The 2010-2011 NBA Champs.   Gordon Curvey
"Music Inner City TV" is on Comcast On-Demand 24/7 all over Western Washington state. Just go to "get local" and then "around the sound" and we are their morning noon and night!!