ARTICLE FROM huffingtonpost.com (Full story click here)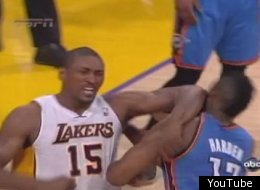 I am listening to Fox Sports Radio and the JT The Brick program with Tom Looney which I do a lot. I find the program informative and also entertaining most of the time.
But when it is not informative and entertaining is when JT goes off on people with this code word "thug" and so on that he uses ONLY against African Americans and people of color.
Mata World Peace threw a elbow that hit OKC player James Harden in a game against the Lakers. It was a hard elbow that is for sure. But is World Peace a "thug" but what about NHL players who get into nightly fights on the freakin ice with elbows flying, players blood on the ice and players teeth on the ice too. BUT I have NEVER heard a white NHL player called a THUG!!!
Tonight I have heard JT call World Peace a "thug" 10 times. But I NEVER heard JT or any other white sportscaster call a NHL player has done MUCH MUCH MUCH MORE THAN WORLD PEACE A THUG!!! This is wrong and unfair.
Readers most African Americans know that when a white sportscaster or news hosts call a African American a "thug" it is a CODE WORD FOR THE "N" WORD.
I know it and most African Americans know it. So readers, African Americans get treated on way and whites another. Pure and simple. African Americans like World Peace get called a thug, and JT says his actions are "violent" and "senseless" BUT when it comes to white NHL players lightweight names like "goons" and "chippy play" are used.
Readers I am NOT trying to take up for Mata's actions. It was wrong. But one thing is not being brought out more. And that is James Harden elbowed or hit World Peace earlier in the nose. This is not talked about enough. Again I am not taking up for what World Peace did but this needs to be brought out.
But SOMETHING BIG IS VERY VERY WRONG!! WHY IS FIGHTING ALLOWED MOST OF THE TIME IN THE NHL OR IT IS ACCEPTED BUT WHEN ANDREW BYNUM (a AFRICAN AMERICAN) TOSSES ONE ELBOW HE IS A THUG.
When Mata World Peace tosses ONE ELBOW he is a THUG! But again readers, WHAT ABOUT NHL PLAYERS? Something is not right here folks. It is infair treatment of African Americans.
Again readers, the word "thug" is a CODE WORD FOR THE "N" WORD that white sportscasters and others use against African Americans and people of color AND NOT USED AGAINST WHITES. This is just a fact. Pure and simple.  Gordon Curvey