ARTICLE FROM sports.yahoo.com (Full story click here)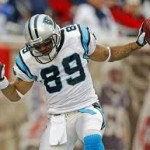 People ask me why do I have a problem with sports radio here in Seattle. A city with two sports radio stations, 710 ESPN and sports radio KJR and they have a grand total of ZERO African Americans or people of color on the air on a regular basis.  KJR has had only ONE in twenty one years…Rick Dupree. This is flat out wrong.
Many times the issue of race comes up because the three major sports in the U.S. are dominated by people of color. When you have a staff with no people of color over the air, they cannot discuss issues of race. The topic cannot be discussed…..period.
The code word "thug" is used over and over and over again when discussing a African American or person of color. NEVER against a non person of color. Say players in the NHL. Only against people of color.
Another problem is this. POSITIVE stories about African Americans in the sports world are barely talked about. Like this story about Steve Smith of the Carolina Panthers who gave $100,000 to families of the terrible Colorado shootings. That is great what he did.
Now readers if Smith got charged with hitting his wive or girlfriend or got caught with drugs or got into a fight in a nightclub at 3am or got caught speeding in his Benz, it would be discussed ALL DAY and NIGHT on sports radio in Seattle and nationwide on Fox Sport Radio or ESPN Radio.
A BIG shout out to Steve Smith for his donation of $100,000 to the families of the Colorado shootings. For sports radio not to talk about what he did was terrible but you know what? Not surprising.  Gordon Curvey
New "Music Inner City Radio" podcast coming at ya real soon right here on "Music Inner City News Magazine" Also watch past "Music Inner City TV" via Ustream TV. Just hit the arrow and enjoy the shows. And watch "M.I.C-TV" by clicking the "Watch Cable TV Right Here" link.
Do you want to be featured on the home page of "Music Inner City News Magazine"? Holla back at 206-445-3989 or email us at gcurvey@yahoo.com