ARTICLE FROM seattletimes.com (Full story click here)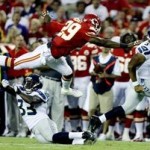 The other day on sports radio KJR former UW and NFL QB Hugh Millen told host Dave Mahler that rookie QB of the Seattle Seahawks is head coach Pete Carroll's "teacher's pet" over the air because he is had very very well in training camp.
What kind of STUPID and CRAZY comment was that from Millen!! That comment was below the belt and just plain wrong from Millen. But it is nothing new from Millen. I remember went he went off on former Seahawk Shawn Alexander a few years ago because he won the MVP award over his boy Matt Hasslebeck. He was pissed. And he was pissed the other day too.
Well guess what? The "teacher's pet" let everyone know that he is a baller!!! And that he might be the starter over Matt Flynn when the season starts. Russell played his beyond off in the pre-season game against K.C. He was dynamic!!!
Flynn did not play because "of a sore arm" Well sore arm or not, Russell Wilson has shown he is ready to lead the Hawks when the season starts. He is agile, mobile, exciting and has shown leadership and most of all he is very intelligent.
I just shook my head listening to clowns/motormouths like Dave Mahler and Hugh Millen talking negative about Wilson being so short for a QB and that he is not ready and that their boy Matt Flynn should start and that Wilson should sit and watch from the "leader Matt Flynn" I said to myself "What in the hell are they talking about"
Fans and talk show hosts just named Flynn the starter as soon he signed his big contract. Well guess what in my opinion and now thousands if not millions have now seen that Wilson can lead the Seattle Seahawks!!! He made plays on the field that Matt Flynn can only dream about making. Real talk!! He is special.
Finally I did not like Matt Flynn's body language on the field. He looked aloof and detached from the rest of the team. When I went to Seahawk training camp I saw the same thing from Flynn. Maybe he just does not have the out going personality that Russell Wilson has. I guess that is it.
Well let's see what Coach Carroll will do. Will he start Wilson or Flynn. Will he keep T.O. or Braylon Edwards. I say Russell Wilson. As a caller told "The Professor" John Clayton on his call in talk show on 710 ESPN, Carroll cannot go back to Flynn. He just cannot.    Gordon Curvey
Read more about Seattle head coach Pete Carroll naming Russell Wilson the starting QB for the start of the NFL season at "Sports Inner City Online" www.sportsinnercity.com 
Music Inner City – Popup Player

Podcast: Play in new window | Download