ARTICLE FROM latimes.com (Full story click here)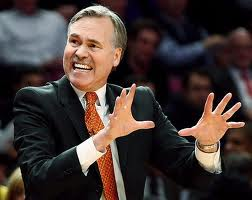 Basketball fans in L.A. and all over the world are shaking their head and wondering what is really going on with the Lakers. Everyone including your truly thought the legendary Phil Jackson would be returning to the sidelines to coach the Lakers to maybe another title.
But that is not going to happen because all of a sudden Mike D'Antoni was named the new head coach of the Lakers to replace the fired Mike Brown who was let go last week. But how D'Antoni got hired is what everyone is taking about. Most thought that Jackson was going to be named the head coach of the Lakers again but Jackson was shocked when he got a call late Sunday to say he will not be the next head coach.
There are rumors that Jackson and owner Jerry Buss have never fully "made up" when Jackson retired a few years ago. And it has led to Jackson not being picked to coach the Lakers. Fans at the Staple Center in L.A. were cheering "We want Phil"  at the last home game for the Lakers but that ain't going to happen.
So now with the hiring of D'Antoni the Lakers have hired a coach who quit on the Knicks last season and has coached teams that love to run but also does not play any defense.  Word is D'Antoni will hire a so called "defensive specialist" to help him but will that help? And with a running team, how will this happen with a point guard in Steve Nash who used to play for D'Antoni in Phoenix but is now 38 years old, Kobe Bryant who is 34, Metta World Peace who is 32, Pau Gasol who is 31  etc.
Also how will a running team help or hurt Dwight Howard? We will see. The Lakers will not have to learn the triangle offense of Phil Jackson and instead will basically be playing street ball. Get the ball and run. The possible return of "Showtime" in L.A. Let's see what happens.
Gordon Curvey