ARTICLE FROM probasketballtalk.com (Full story click here)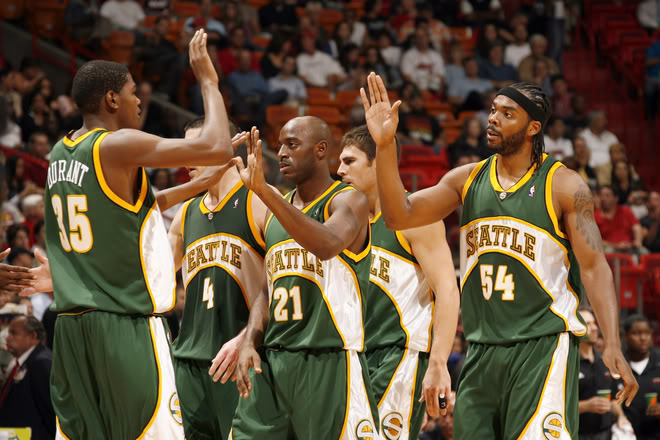 As a HUGE NBA basketball fan today/tonight is a great day because of the news that our Seattle Sonics may be coming back to play here in Seattle by the fall at Key Arena! This is great great news!!
So as a sports fan I was happy today as my favorite NFL player Ray Lewis will retire after playing in the Super Bowl against the 49ers after the Ravens beat the Falcons to advance to the Super Bowl and then my phone blew up with a text or two with news that a deal will be announced that the Kings will be moving to Seattle.
The group led by Chris Hansen and Steve Ballmer will buy the Kings and the team will be named the Seattle Sonics and the team will play in Key Arena until a new arena is built here in Seattle no more than 5 or 10 minutes from where I stay.
When the Sonics left town in 2008 it was a very sad day for me as a sports fan. A team that was in Seattle for 41 years left town for Oklahoma City. A team that brought us our only real pro sports title in 1979. I just could not understand it and every time I watched OKC on TV I thought about our departed Sonics.
But now it looks like the Seattle Sonics are coming back and I am happy as hell!! Sports is my way of relaxing from thinking about all my bills and the stress of doing my TV show "Music Inner City TV" and other things. For years  went to morning shoot-arounds at Key Arena to conduct short interviews with players and coaches
Over the years I interviewed Shaq, C-Webb, Dirk, Phil Jackson, Charles Barkley, Shawn Kemp, Gary Payton, George Karl, Rip Hamilton, Doc Rivers and many many other NBA players INCLUDING Micheal Jordan! It was. a fun not work when I went to the Key to conduct interviews. It really was.
I will have stories here on "M.I.C News Magazine" and also on our sister sports website "Sports Inner City Online" at www.sportsinnercity.com  Gordon Curvey