"One Man's Opinion" by Gordon Curvey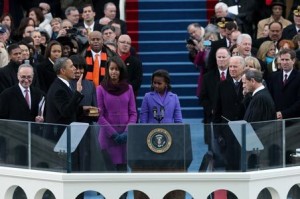 On the late Martin Luther King Jr. Day I watched President Barack Obama take the oath for his second term as President of the United States. I got up and watched all activities on C-Span. It was great and historical to watch the first African American President start his second term with Vice-President Joe Biden.
And the President gave a great speech in front of about 1 million people in Washington D.C. I also saw Beyonce sing a great edition of our national anthem and Kelly Clarkston sang great too as did James Taylor.
Then later in the day I continued to watch C-Span and saw the big lunch where Republicans and Democrats had lunch and heard a few speakers including the President. Then I watched the events that was held at night.
I watched the President decked out and saw a BEAUTIFUL dress worn by the beautiful First Lady Michelle Obama and I am telling you she was looking GOOD! Real talk!! Of course the President and Michelle did their traditional dance for everyone while the also beautiful Jennifer Hudson sang Al Green's "Let's Stay Together"
Watching the President and First Lady do their dance put a big smile on my face. It really did. And later I saw the great Stevie Wonder and others perform at one of the events being held. Of course Stevie did a great job as he always does because the cat has so many hit songs to sing as we all know.
So Monday was a good day. It was Dr. Martin Luther King Day, I saw President Obama start his second term and I continued to hear VERY good news of the return of the NBA and our Seattle Sonics back to our city.
A city that should have never been left without a team. By the way will continue to give you updates on the Sonics returning to Seattle right here so please check back and also continue to watch our webcasts and listen to our podcasts!