ARTICLE FROM huffingtonpost.com (Click here for full story)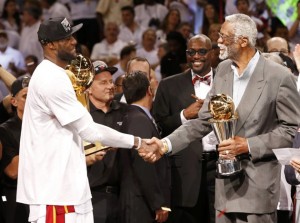 The Miami Heat won their second NBA title in row with a 95-88 win over Tim Duncan and the San Antonio Spurs in seven games. This series was not a classic series it was real fun to watch as a NBA fan. And I am sorry to see the season end. This is a fact readers.
Basketball and the NBA by far is my favorite sport. I just love to watch the NBA. Pre-season, regular season and of course the playoffs. And when the season ends as a basketball fan I get sad. But as a basketball junky I will watch summer league games on NBA-TV starting soon. But anyway the Heat fought very very hard to get another title behind LeBron James 37 points 12 rebounds and 4 dimes. And D-Wade had 23 points and 10 rebounds and Shane Battier had 18 points off the bench that was huge for the Heat because Ray Allen and Chris Bosh did not have many points. Bosh tried to play good d on Tim Duncan all series.
The Heat have now won titles in 2006, 2012 and 2013. James is just 29 years old. He has a chance of course to win many more titles. Remember Kobe has five rings and MJ has 6. These cats will never get 11 like the great Bill Russell who is shown above giving the MVP trophy to James. Russell by the way stays here in the Seattle area on Mercer Island which is right outside of Seattle. I see the great Russell from time to time.
So it will be interesting to see what happens next with the Spurs. Duncan is 37, Munu is 35 and Tony Parker is 31. Duncan had a great season. One of the best of his career at age 37. Hell he made the first team all NBA team this year. Of course we know the big three of Bosh, James and Wade will be back. The "Birdman" Chris Anderson joined the Heat late in the season and added fierce rebounding and defense to the Miami team. Will he be back next season? I guess we will see.
So congrats to the Miami Heat for winning the title this years. And it was a great season for the Spurs who just came up short in trying to get their 5th title.  Gordon Curvey