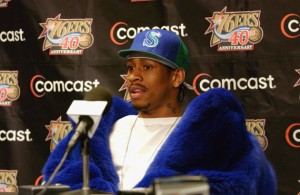 ARTICLE FROM sports.yahoo.com (full story click here)
(A.I. wearing Seattle Seahawks hat!)
Well it has finally happened…..maybe. NBA all time great Allen Iverson says he will officially retire from playing basketball in the NBA and elsewhere. Let's see how this holds up folks.
I say this because I am sure that at 38 A.I. still thinks he can play. I am almost sure of this. But I think it is time for Iverson to move on with his life and get ready for going into the Basketball Hall Of Fame in four years. He should go in on the first ballot just like former Sonic great Gary Payton who is going in the Hall very soon.
What is so sad about the story of A.I. is all the negative press he has got over the years going back to early in his career. On the court he was great, off the court he was not.
But now since he is going to retire, maybe he can be like Mike Tyson and become a positive force in what ever he decides to do. Tyson is doing all kinds of positive things now. Allen can do the same.
Maybe Allen can become a coach or work in the front office of the 76ers. Allen Iverson can do positive things if he wants to. But it is all up to him readers. He has to say that he will do positive things after working off the courts of the NBA and elsewhere.
It is real sad that A.I. blew millions of dollars on big cars, big homes, big watches and chains etc. Word is he still has big money coming in. So the question is what will Iverson do with the big money he still has? I guess we will see. But I hope and pray that Iverson will do something positive in his life. To be truthful I am kind of worried for Allen. I really am.
I am worried because A.I. loved the play basketball so much. Now he is 38 and it is time to move on. So what will he do next? I don't know readers but I hope it is positive. I don't want to hear about A.I. getting in trouble. I want to hear about Allen maybe helping kids in some way at a school or a college. Maybe becoming a coach in the NBA or college. We will see what Allen Iverson will do next.
Gordon Curvey