ARTICLE FROM huffingtonpost.com (Click here for full article)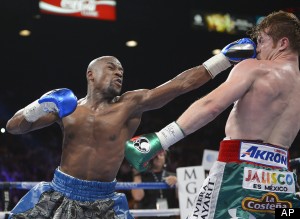 If you are a sports fan like I am you have watched "All Access" on Showtime that features Floyd "Money" Mayweather. They are real entertaining programs and I have watched all of them.
The last few programs showed Mayweather getting ready to fight his next opponent the great young undefeated Canelo Alvarez and the program also showed Alvarez in his training camp getting ready. Of course the program showed the difference in how the two undefeated fighters handled training camp getting ready for the big fight.
Mayweather of course has his "Money" team around him that includes his dad Floyd Sr. and his Uncle Roger training him.  And Canelo had his trainers including his dad and they both trained very very hard for the fight that took place this past Saturday (Sept 14th) in Las Vegas.
As you know Mayweather won a majority decision over Canelo. One female judge called the fight A DRAW!!! This lady must be BLIND like the late great Ray Charles and the great Stevie Wonder and the late great Roy Orbison!! I don't know what fight she was watching!
Everyone in Mayweather's corner could not understand why this judge ruled the fight a draw when "Money" won judge about every round. Alvarez might have won one or two rounds. That's it folks. Singer Justin Bieber was in Mayweather's corner and he was even wondering why this judge ruled the fight a draw. I sat at home with my mouth opened saying WHAT????
But anyway Floyd won the fight and took home at least $41 million and that is not including the pay-for-view gate. Mayweather has not done any commercials on TV but still is the highest paid cat in the sports world. Floyd gave Canelo gave a complete boxing lesson and let everyone know even at age 36 he has a lot of gas in the tank. We now wait to see who Floyd fights next. In my strong opinion the only person who can defeat Mayweather in his class is father time!!    Gordon Curvey