ARTICLE FROM tvguide.com (Full story click here)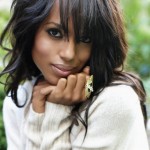 Again as I watch these awards shows from held in Hollywood. I see a problem. As do many many others like actress Ellen Pompeo. And the problem is the lack of diversity on these awards and in Hollywood period.
Miss Pompeo recently made comments regarding the Emmy Awards and the lack of diversity on the show. And she was 100% right. I watch the red carpet show and the main show and saw very few actors that were minorities who were interviewed by Ryan Seacrest and saw very few minorities were on the show as presenters. It was truly sad.  LL Cool J and a few others. That's it readers.
It is like African Americans and people of color are not in Hollywood working. What is going on with this? Truth be told Kerry Washington should have won best actress this year. It would have been the FIRST African American actress to win the best actress award at the Emmys. Let me repeat…the first! The legendary Dianne Carroll was nomainated years ago but did not win.
Readers are you going to tell me their was not more African American actresses who could have been nominated? No African American men were nominated! SAY WHAT? Are you going to tell me no African American men could have been qualified for a possible Emmy trophy? Give me a freakin break!
You see their is a problem where MORE good parts on TV are not being written for African Americans and people of color. Plus their is a problem in Hollywood sadly to say that 95% or even higher of the writers are no people of color so this a HUGE HUGE problem.
Kerry Washington is a beautiful and talented actress who should have won this year. PERIOD. Not only that she knocks ladies out with what she wears at these awards shows. And when she came out at the Emmys to announce a winner of a award, she came out with the legend Miss Carroll. It was great to see the legend come on stage with a young future legend. And Washington said she was truly excited to walk on stage with such a legendary African American actress in Carroll.
So readers what is going to be done about the lack of diversity on the red carpet award shows and the main program of the mainly award shows and what is going to be done about the lack of quality parts being written for African Americans and people of color in Hollywood and finally what is going to be done about the lack of minority writers. We will continue to follow this situation and write about it here on "M.I.C News Magazine".     Gordon Curvey