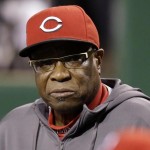 ARTICLE FROM si.com (Full story click here)
MLB manager Dusty Baker is a outstanding major league manager. He has won where ever he has been. The Cubs, Giants and the Reds and so teams that need a manager should jump on Baker because he is available.
Baker was recently fired by the Reds after getting bounced in the MLB playoffs. So now the question is where will Dusty end up? I think he should end up right here in Seattle with the Mariners. The Mariners should not waste time. HIRE DUSTY BAKER NOW!
Check this out sports fans. Baker was available as a possible manager for our Mariners back in 2002 and then GM Pat Gillick said "We are not interested" The Mariners DID NOT even interview one of best MLB managers. Let me repeat. The Seattle Mariners did not even interview one of the best managers in baseball in 2002!!! What a damn shame. The question is still hangin in my mind today as to why the Mariner GM said he was not interested in Baker. Read a 2002 article I found about this (link above).
Dusty said at that time that he and his wife loved the Northwest and he said he would love to be named Mariner manager. Of course this did not happen. And since that time the Mariners have not done a damn thing! People come to Safeco Field to knit sweaters, drink $8 beers and $8 hot dogs and text friends on the phone. Because the Mariners are ALWAYS TERRIBLE!! Including this year.
Eric Wedge walked away from the Mariners as their manager a few days ago. As a sports fan here in Seattle I am tired of watching year after year the Rays or A's or this year the Pirates going to the playoffs while again the Mariners go nowhere after another 80 or 90 loss season. We are one of only a few teams that have not been to the Series. A beautiful ball park with a ugly team!
I listened to sports radio KJR and 710 ESPN here in Seattle and heard so called sports jocks say they don't think Baker is a good fit here in Seattle because he does not work well with young pitchers. Excuse me readers but THAT IS BULlSHIT!! Why? Because in reality EVERY MLB manager or any head coach in the NFL or the NBA has faults we can knit-pick at! The bottom line is Baker takes teams to the playoffs. Somewhere the Mariners have not been in years and years!!
HIRE DUSTY BAKER AND GIVE HIM SOME PLAYERS AND WE WILL WIN!!! We need a hard hitting almost five tool outfielder. We need a hard hitting first baseman. We need a lot. We need another Adam Jones. If you don't know the star outfielder for the Orioles was traded to the O's for basically Eric Bedard who has not done a damn thing since and Jones has because almost a superstar. The worst trade in Mariner history.
So readers will the current GM for the Mariners say we are not interested in Baker again? Let's see. Gordon Curvey