ARTICLE FROM lebronjamesfamilyfoundation.com (click here to go the site)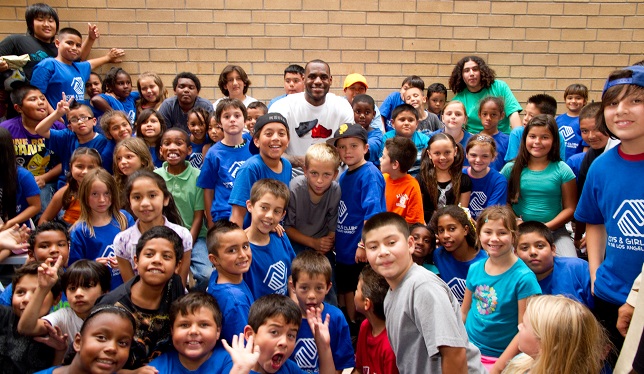 Does not seem like it but Lebron James of the champs Miami Heat has been in the NBA for ten years. Man how time goes by. James has has been in the sports spotlight since he has been in high school in his hometown of Akron, Ohio.
When folks saw him in high school everyone knew he would be a NBA superstar and as we all know he became just that.
Winning NBA titles and multiple MVP trophies. And he may win another one this year. Lebron is a freak of nature. He is 6-8 and 260. He runs like Russell Westbrook and dribbles like Magic Johnson. He can play all five positions on the court. And he has. He is by far the best player in the world.
Yes James took a heat for all the big stories about his departure from Cleveland to play for Miami. And maybe it was over the line but people seem to forget that a lot of money was made for the Boys and Girls Club in his hometown of Akron. So that was a good thing.
And since then Lebron has started a foundation called "The Lebron James Family Foundation" and his foundation is doing big things for inner city kids in Cleveland and Akron. What he is doing is great. James has not forgot where he has come from readers. He has built a new Boys and Girls Club in Akon and gave away thousands of new bikes for kids and much more!
He also has bought thousands of computers for other Boys and Girls Clubs. And he has asked his kids that he follows with his foundation to say "I Promise" to get good grades in school and graduate. All this is just great what James is doing.
Folks to many times we here the negative when it comes to African American sports stars in the NBA and NFL. Cats getting caught smoking bud and hitting the girlfriend or getting into a fight at 3am in the morning at a club etc. BUT you do not hear negative things about Lebron James. He plays his games with the Heat and goes home to his family. Others should follow James.
Lebron James is what we call a role model for young kids in the inner city and out. Shout out to Lebron for what he is doing for the kds with his LeBron James Family Foundation.    Gordon Curvey
Drop into EMERALD CITY FISH AND CHIPS in Seattle for some of the best food in town. For more information please click here at www.emeraldcityfishandchips.com or call 206-760-3474. E-mail emeraldcityfishco@gmail.com