"One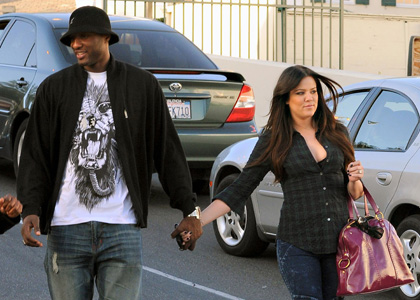 Man's Opinion" by Gordon Curvey
One thing is for sure readers, when you are in the public eye it is very very hard to keep a relationship going. It is worse when both are so called celebrities like NBA player or should I say right now ex-NBA player Lamar Odom and his wive Khoe Kardishian.
Come on folks they had a freakin reality program dealing with their relationship. I don't know how it lasted as long as it did to be real with ya because Lamar was a NBA player who was never at home during the season. And you know other females were trying to get at Lamar on the road when Khoe was not around. It is the NBA way of life folks. Dealing with the females.
Then all of a sudden rumors came out about Odom and drugs and alcohol use. You would see pics of Lamar looking very skinny. He did not look good at all. So with all the rumors which Odom said was not true but it was obvious it was, Khoe stood in support of her husband.
This lady really stood behind her husband as long as she could and now the word is she cannot take this anymore and wants a divorce from Lamar Odom. This is kind of sad in my opinion folks. Because it seems they really loved each other. But with Lamar problems I guess Khoe could only take so much and had to move on. Lamar went to a drug program and dropped out. Real sad.
Now their are rumors that Khoe might be dating baseball star Matt Kemp. Man she ain't messing around when it comes to dating rich sports stars right? Meanwhile Odom may be trying a comeback in the NBA. Rumors are a few teams may be interested. If you know about basketball you should know that Lamar is a very talented player who at 6-10 can dribble and shoot and rebound. He can play all five positions on the court. We will let you know if Lamar gets picked up by a NBA team.    Gordon Curvey
Listen to the latest edition of "Music Inner City Radio" hosted by Gordon Curvey. Entertainment news and some sports news PLUS classic soul and classic hip-hop music and interviews from out "Music Inner City TV" program and more!
Music Inner City – Popup Player
Podcast: Play in new window | Download