"One Man's Opinion" by Gordon Curvey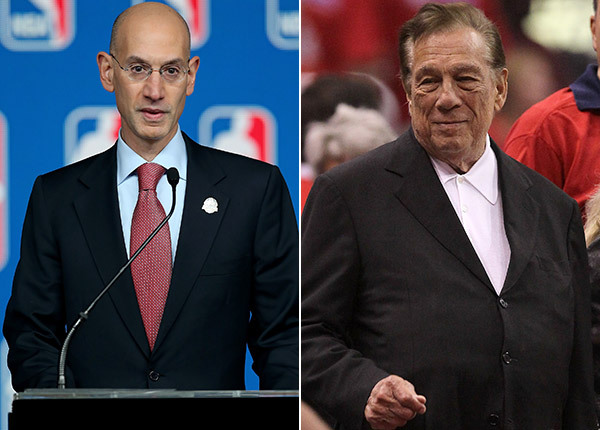 As a sports fan today is the happiest day of my life! The head of the NBA Adam Silver today banned Los Angeles Clipper owner Donald Sterling for life from the NBA and fined him $2.5 million. I have to admit I did not see this coming.
I thought he would ban Sterling for a year or two. But he is banned FOR LIFE for his racist talk against African Americans to his girlfriend over the phone. It was just terrible listening to Sterling telling his girlfriend that he did not want "blacks" at his games at the Staple Center and he did not want NBA legend "Magic" Johnson at Clippers games!! SAY WHAT??? UNREAL!!!
What has to happen now is the other 29 NBA team owners has to vote on if Sterling should continue as the owner of the Clippers. Hey readers what owner what have the freakin NERVE to support Donald Sterling? Who in the hell would that be?
Also folks as a Seattle Sonic fan when our dearly departed Sonics were here in town I was VERY VERY sad when we found out the Kings were staying in Sac-town. But during that fight I learned to respect the Mayor of Sacramento for NBA player Kevin Johnson on how he fought to help keep his team in his home town. And now after seeing Mayor Johnson out front on the behalf of the NBA players in this Sterling mess, I have learned to respect Johnson even more. He is a leader. That is why the players wanted him out front for them.
I feel sorry for the Clipper players and Coach "Doc" Rivers. I feel sorry for the L.A. Clipper organization. Seattle native and a friend of mine is a player on the Clippers and that is Jamal Crawford. Can't wait to to talk to Jamal when he returns to Seattle and get his views of this crap with Donald Sterling and his views of what he said about African American people.
Happy to see the tweets from players like Lebron and other players in supporting the lifetime ban against Sterling. Happy to see owners like Seahawk owner and Portland Trailblazer owner Paul Allen and Mark Cuban speak out on Sterling and the racist stuff he said about "blacks"
Finally folks what bothers me A LOT is listening to sports radio here in Seattle and the 99% white hosts discussing racial issues. A topic they know NOTHING about. There is three sports radio stations here in Seattle, 710 ESPN, sports radio KJR and 1090 The Fan and their is only ONE AFRICAN AMERICAN AS A SPORTS HOST, Jerry Brewer.
I truly believe that these white hosts do not have any contact with African Americans except when they interview a African American on the air and I truly think is true. I mean I hear the white hosts say "This is racist" etc. WHAT DO THEY KNOW ABOUT RACISM? NOTHING!!
I heard Adam Silver say the NBA family is about DIVERSITY. Sports radio here in Seattle needs more DIVERSITY AND THEY NEED IT NOW FOLKS! Unlike the NBA, sports radio when it comes to African American knows about one thing…EXCLUSION!! More news on the Donald Sterling story coming up soon here at MIC News Magazine and "Sports Inner City Online" www.sportsinnercity.com