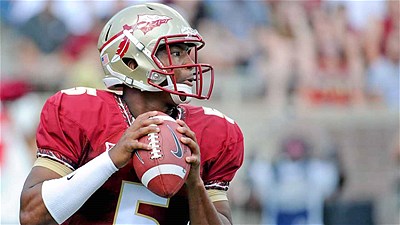 "Music Inner City/Mixing Music & Sports"
"One Man's Opinion" by Gordon Curvey
Readers I am asking what in the hell is wrong with Heisman Trophy winner Jameis Winston? Someone please explain because I am lost and confused about this brotha. I really am.
If you have not heard, Winston was cited for stealing about $32 of crab legs the other day. Where is this young man's mind at? He has to know and has to realize he is known all over the world! He won the freakin Heisman Trophy for goodness sake! You just cannot do the things you used to do and hang out with bad guys etc. Something is not right about this young man's thinking.
Now he has a record of negativity that is not good. This is the second time Jameis has been cited for stealing out of a store. Plus other problems including a serious rape charges that he can thank the man above that nothing happened with that because some folks think he did rape the young lady but got special treatment because he is a big Florida State football star. Something very shaky happened with that charge and I really think strongly on that.
I am the first one to take up for my African American people against racism etc BUT in this case I CANNOT take up for Winston! He admitted that he stole the crab legs from the store and was fined a few dollars and suspended from the Florida State baseball team where he is a pitcher.
Yes we know young students in college have a rough time getting a good meal at times but I heard things will get better as far as students having more meals and better choice too. But this cat is a big time football star. I do not understand why he does not a few more dollars in his pocket from should I say "under the table" ways if you know what I mean.
Let's hope that this situation will be the LAST time we hear of this very talented young man doing something stupid. I hope he can sit down with football legend Jim Brown or Micheal Irvin or Rev. Randell Cunningham (ex NFL star) and they can talk with him and help him stay on the right path because I do not want to hear about him doing something REAL stupid and end up in jail for a long long time. He needs to realize that a lot of young kids of all colors look up to him as a role model.
Comment? gcurvey@yahoo.com or www.facebook..com/gordon.curvey or www.twitter.com/gcurvey Also I will be doing MUCH MORE "urban" sports related stories and video and radio here on "M.I.C News Magazine" & "Music Inner City TV" We will be using out USTREAM screen for "Sports Inner City TV" Doing this because more minority voices are needed in sports media here in Seattle and the U.S!

"Music Inner City TV"/Comcast-Xfinity On-Demand/24-7/Western Washington State/go to "get local" and then "around the sound"/two or three programs to view ANYTIME! Watch our webcasts to the right via smartphones, tablets or PC's or Macs!